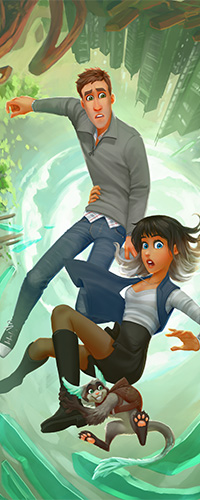 About Immaterial
Fantasy, Science Fiction, All Ages
2021 -
After a childhood spent constantly moving from place to place, Alex Velasco wants nothing more than to settle into her new apartment, make some new friends, and most importantly, keep her job. But her life is turned upside down and back to front when she's accidentally pulled into an surreal escher-esque reality where things that are lost and forgotten find a home.
Artist Notes
I first started rough drafts and ideas for this story not long after I finished with Phoenix, although initially my plan had been to create a point and click adventure game. Gossamyr (and life) pushed it to the backburner, but that didn't stop me from occasionally thinking about it and refining the concept in my head. I finally sat down and drafted out the outline after completing Gossamyr book 2; still, I didn't think I'd really have the opportunity to start work on it until the third and final book was finished, but I kept working on it regardless, from the basic outline to the final script, then to the first few panels...
The finished story is 206 pages (short, by my previous standards!). You can read it here, or over at Webtoons for a more mobile-friendly format. Updates every Monday, Wednesday and Friday with a new page, or full scenes every two weeks on Webtoons.